Charity Ground Breaker
United Federation Of Volunteers for Refugee Action is a nationwide and international charity to protect refugees who have been forced to flee their homelands because of who they stand, including Religious, Ethnic, and sexual minorities. For more than 19 years, UFVRA has been assisting refugees rebuild their lives, fighting against poverty and social injustice. Through provision of immediate assistance and setting up of self-sustaining development programs, our goal to advance in real, operational results. By creating stable and dedicated grass root relationships with indigenous, nationwide and global partners, our organisation are able to reach some of the most tough to reach dwellings at the most helpless of times. We support, inclusion, safety, and dignity, harmonious and united communities.
OUR VISION
United Federation of Volunteers for Refugee Action is a nationwide and leading international humanitarian development organisation. That a world in which values human life and dignity, every person attains the right to survival, embracing justice and Equality in a global community where no more suffering and poverty.
The primary goal of the project is to restore hope and provision of basic needs to orphans and vulnerable children in Kenya. UFVRA Children's Home takes care of destitute, orphaned and abandoned children.
The objectives are to rehabilitate the children with interpersonal development skills through education, medical care, building of their self-esteem and social living skills. We equip children with psychosocial skills that will enable them live responsibly in the community.
We provide a nutritional diet to all children to help eradicate malnutrition and encourage healthy body and mind growth. We also provide a child friendly living atmosphere for the children. Furthermore we initiate income-generating activities for sustain the Home and we empower local families with small business skills so that they can improve their income in readiness for the reintegration of the children back into the community.
The project has a feeding program where it ensures that children get a well balanced diet and three meals a day. In response to the millennium development goals for 2015 the project has endeavoured to provide education needs to all the children in the home. We have pre-school, primary and secondary pupils. With our dormitories and the main family house we provide shelter for all the children. They are living together as brothers and sisters under the care of two parents. The program provides clothing and school uniforms to the children.
Medical care is provided to all children. The home provides on going phsychosocial counselling for the children through networking with pro-bono counsellors who provide invaluable counselling to the children. We have income generating activities as the home has four milk cows (Friesian) that provide milk to sell locally, supplementing the Home's already strained budget.
The Children
Our orphanage has 80 orphans in total. Most of them living at the home attending public & private schools in the local area. They are aged between 3 years 17 years old, boys and girls altogether. On top we have 10 children in secondary school - so they are staying at home only for their holidays.
Aside from having a home and something to eat every day, education is the most important thing in our orphanage. We try to get the best education for every single child. For this reason we built our own private school next to the orphanage, called St. Helena Private School, where we educate Orphanage home founders children together with children from the neighborhood. The school grows every year. At the moment we do have baby-class and nursery, pre-unit and class 01 to 04.
Paying school fees for the children in secondary school and covering the feed for St. Helenas School has been a big challenge so far. In case of secondary school we have to pay around 450€ each year per child. The children in ufvra support school are in need of roughly $54240 to cover the salaries of the teacher, food, stationary supply and running costs like water, electricity and other small things. Therefore we need your support! If you wish to support one of the children, we and especially the children would be extremely gratefuly.
You may ask yourself what is included in daily life and education. We can promise you that you will cover all basic needs of the children. Daily life includes three meals a day (breakfast, lunch, supper), medical care, general costs (water, fire-wood, electricity, salaries, security). Education includes teacher salaries, food (snack, lunch), stationary supply an of course running costs. Not included is the construction of new class-rooms. Click through the photos below and learn more about our children.
---
Primary children-staying in the home all the time.
---
Secondary children, staying in the home during their holidays
---
How school feeding benefits children who are orphans and vulnerable

School feeding not only encourages children to enter school, but can also attract new inscriptions from marginalized communities if they are appropriately targeted on the basis of poverty and food insecurity.

Orphans and vulnerable children can be reached

Within the United Federation of Refugee Volunteers Action Initiative, promotes sustainable solutions for children at high risk, homeless people, asylum seekers, refugees, disadvantaged families and helps the humanitarian community to do the same as well as stakeholders, (donors and implementing partners supporting national governments) is being undertaken in a transition towards seeing further ufvra policy implementation.www.ufvra.org.au

This implementation aims for a more sustainable and multisectoral approach for the extension of school feeding to reach Orphans and Vulnerable Children (UFVRA).

At the same time, the support, coordination, management and critical operational research priorities related to the UFVRA inclusion through partners is also being carried out. In this way, support to the most marginalized children will be catalysed, increasing their access to education whilst continuing to support long-term food security, as part of the overall ufvra vision.
"We would first and foremost love to thank all of you from the bottom of our hearts for the support and love that you have exhibited towards the UFVRA Orphanage home. You are a gift to us. We are truly grateful for standing with us. In the last few years a lot of things have changed within the home.
With donations, physical help and environmental knowledge we were able to improve our daily life and our living conditions. But there are still many things to do!
This year, after having a meeting with the UFVRA Children's Home Board members in kenya, we came up with a list of short term and long term projects which we would love to undertake, that will really help in running this Home even more efficiently. Kindly feel free to take a look at them. You are welcome to donate towards any of these projects through better-place. Your contribution, whether great or small is totally significant and highly appreciated. If you have some new ideas or knowledge to change and improve our home just contact us!"
- Yours Sincerely, Rachel -
New Welcome Crew Project in 2016
Our entrance is covered with new buddies. Simba, Timon und Pumbaa welcome all our childrens, friends, family and visitors. Hakuna Matata!
Tarnsport Available- Thank you all. Project in 2016
We are proud of our new and first (!) car. Finally we are able to bring in food by ourselves.
The orphanage home school is growing. we are buliding new class room or UFVRA Child friend space at Kibira home (2019).
Since a real generous German couple helped us in the beginning of 2017 with some fundraising , we are in progress building two new class-room for the upcoming school year
And here we go: the new class-rooms are done and we are happy to use them in 2015. Thank you for everyone who helped and supported us in this project.
Extending the shed (project in 2017)
we are constantly trying to improve our economic situation. The main goal is to become more and more self-sufficient. Therefore we improved the shed. With two new cows, which give way more milk than our old ones we are able to collect more milk while staying low in costs for animal food. We will focus on this in the future and try to buy more cows out of the money we earn from selling their milk.
Renewing the sanitary system project in 2015 (project 2014 still running
DRINKING WATER STATION (Project in 2014)
Since a long period of time we tried to figure out how we could provide the children with clean drinking water. Since a borehole would have been to expensive in construction we decided to built a huge water tank (as you can see below) and on top a small drinking water tank. This drinking water is rainwater, filtered and chlored. The children accepted it quite well and so we all hope that we won't have to deal with stomache diseases anymore.
NEW WATER SUPPLY (Project in 2013)
NEW CLASSROOM FOR ST.HELENAS
SCHOOL (Project in 2013)
We are very happy that our own school next to the orphanage is still growing. Last year we managed to finish the building and we are now able to teach the children from the home with teachers we choose and they also don't have long ways to school, which is important especially for the younger children.
NEW PATHWAY TO THE ORPHANAGE (Project in 2012)
Due to the help of so many lovely people donating on betterplace the home was able to repair the dirt road up to the Home. The children and all the visitors are happy about the first rainy season without struggling coming up and down the hill.
Thank you very much for supporting our children in education. We were able to pay the school fees for the whole year for Hannah Wambui, Samuel Ndegwa Njambi, Margaret Wangui and Allan Njoroge.
With the help of so many nice people donating on betterplace Rachel and Steven were finally able to finish fencing the home. As the Home was not surrounded by a fence, there was no security around the home. Now the children and everybody else is able to feel save at Home - especially at night times.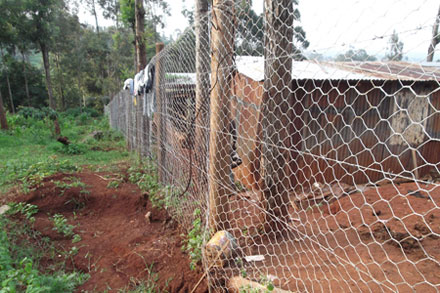 Due to the help of a British charity Dig Deep (1121493) and the outstanding work of Jennie Nicholls and Rebecca Fawssett in 2011 we were able to build a biogas-system which provides our home from now on with biogas. You can easily have a look into the report of this project here.
The Bank of Kenya donated two new dormitories to our children. Thank you very much for your help!
The home shelters a lot of small children who were forced to walk very long distances to their nearest public school. These had medical implications as children get infections during rainy season as well as high risk of getting knocked down by speeding vehicles on the road. We are therefore very happy to announce that our school opened in 2010! We would like to thank every single supporter!
Safaricom donated a new cow-barn. We are very happy about your help. Thank you very much.
The reading culture among the children is improving but to cultivate it to better levels we needed a good reading room library. in 2010 we were supported by Mr Wagener who donated shelves, more books, tables and chair to us. Thank you very much for your support
DONATE direct to Kenya project
Thank you for choosing to support the UFVRA Children's Home.
Wheter you would like to support the Home or the UFVRA St. Helena School in particular projects, be responsable for the school-fees of one child during a period of time or if you would like to make a one-time contribution, we'll be very, very happy and thankful!
You can easily donate through www.ufvra.org.au buttons or just contact us. There is also the opportunity to donate through the following Button Below:
Your contribution means so much to us. Thank you!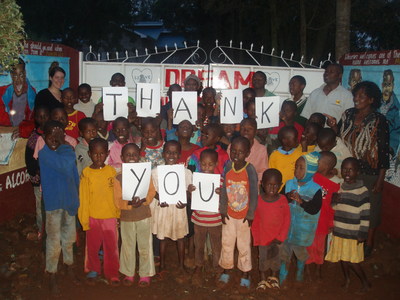 My Donations